Hi Anja and Lars,
At the end of Jan, Til's family came to see Angkor and the school and allowed 7 students to see them in person at the hotel. Socheat, Sophanith, Srey Nat, Srey Roth, Sim Sa, Pot and Channa, who received university loans from you and me, were excited to see Til's daughter Tanita. Til had gifts for Pot, Sim Sa and Sophanith. And later that evening, I took them to dinner so I could understand their situations better.
I am so very proud of them. They all have jobs now. Srey Nat, Sophanith, Srey Roth, Socheat and Channa are all teachers. Sophanith and Socheat are teachers of English. Srey Nat, Srey Roth and Channa are math teachers. As for Sim Sa, Socheat and Pot are waiter and waitresses at local restaurants in Siem Reap town.
They are working very hard to get a bright future. They work and study almost 15hours a day. However, they now understand the meaning of life better.
My friends in USA sent some text books so I took some some photos for you. There are some new students that you have never met before.
Best regards,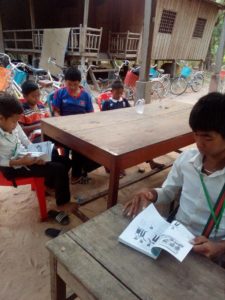 Cha Cha,